| | | |
| --- | --- | --- |
| | An ISO 9001 : 2008 Certified Company | |
Home
»
Technology
» Refining
Degumming
Degumming is the first stage in the refining process. It is sued to separate the gums, phospholipids, proteins etc… that are insoluble in oil when hydrated.
Salient features of the process are:
Water degumming can be carried out in the Extraction Plant.
The separated gums are added to the deoiled meal in the toaster.
To produce lecithin, these gums are dried separately.
Crude oil is pumped continuously to an in line mixer where in pre-calculated quantity of water is added. Oil water mixture is fed to the hydration tank and allowed sufficient residence time for the gums to agglomerate on hydration and pumped to Separator where the oil and hydrated gums are separated and pumped to storage. Some particles that are not removed by water degumming need Acid Treatment.
Degummed oil from the separator is fed to a knife mixer, where it is intensively mixed with requisite quantity of concentrated phosphoric mixture and is allowed a brief holding time in the mixer and the precipitation of phosphatides and trace metals take place.

Click Here to Enlarge View
Neutralising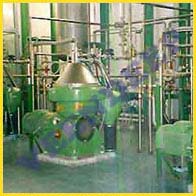 Neutralization is a chemical process for separating the free fatty acids from oils using Caustic.
The neutralised oil is to be washed before bleaching to separate any traces of soap or acid from oil.
After washing, the oil is vacuum dried to remove any water traces.
Salient features are:
Easily transforms free fatty acids into soap
Removal of phospholipids that are not hydrated at degumming level
Removal of metals, pigments and other volatiles.
Degummed oil after conditioning is fed into the mixer where it is mixed with calculated quantity of caustic soda solution of suitable strength. Free fatty acids in the oil react with caustic soda to form soap. The mixture of oil and soap along with the precipitated gums is fed into a Centrifuge to separate oil and soap stock.
Washing
Neutralised oil is then pumped into knife mixture. The oil is mixed intensively with hot water fed by pump in the knife mixer, then the mixture is fed into a Centrifuge (separator).Traces of soap in the neutralised oil is separated by water from the oil phase. Oil and soapy water are then separated in the hermetic centrifuge/separator. The washed oil from separator is dried continuously in the vacuum drier.
Vacuum Drying
Washed oil is fed continuously to the Vacuum dryer and sprayed through specially designed nozzles.